Hey there! 
MARKETING IS ONE OF THOSE DISCIPLINES THAT'S GREAT TO LEARN IN THEORY,
BUT without experience and tactile skills it's hard to hit the ground running in a job! 
That's why we are here to help you gain the experience and skills with bucket loads of encouragement and support! 

HERE'S AN OPPORTUNITY TO GET STUCK IN!
We love marketing. 
What we don't love is how overwhelming it can feel when first starting out. We all remember the days when briefs felt like they were presented in a different language! 
That's why we are passionate about helping our next generation of marketers learn and thrive. 
We have a highly experienced team with a diverse range of skills, so every internship can be tailored. 
We have opportunities for interns who are: 
Studying (or recently completed studies) in Marketing, Design, Media, Communications or Business Management. 
Have a passion for helping businesses grow. 
Keen to learn and truly build knowledge and skills. 
Have a creative soul. 
Love social media. 
Appreciate a great team environment and value support.

Ready to work on their future career and gain some REAL industry experience.  

Studying but feel overwhelmed by the thought of stepping into a marketing job (don't worry, that is totally normal!).

Driven to get things done, but would like some guidance as to where to start.

THE HUDDLE IN LEVEL UP MARKETING INTERNSHIP IS FOR YOU IF:
A team player, motivated individual and all-round great human being. 
Have a minimum 1 day per week to invest in to your learning with us. 
Can make your way to and from our Carlisle based office. 
EXPRESS INTEREST
IN BEING AN INTERN WITH US
Simply submit your expression of interest form and tell us a little more about you and what you're looking to achieve through your 12-weeks.  
HOLD UP, HOLD UP.
WHY WOULD YOU WANT TO LEARN FROM THE HUDDLE UP CREW? 
Well friend, that's a valid question. It could be the 3pm office dance parties,or maybe one of these top 5 reasons:
We are big enough to make waves for a broad range of clients (hello variety) and small enough to genuinely care. 
Our clients are awesome! You'll love helping them grow, just as much as we do. 
We have a huge focus on systems and procedures and run a tight ship (trust us – you need this in the creative world). 
Our team is global! You'll work with the team and Perth and also have exposure to our extended team in the Philippines and NZ. 
We are patient and generous with our time and will do what we need to do to make sure you are learning and reaching your full potential. 
WAIT, BUT WHAT HAVE OTHER INTERNS SAID? 
"I will forever be grateful to the Huddle Team for giving me the opportunity to gain industry experience while I was still at uni. Emma's guidance and support has been invaluable in shaping my skills and confidence. I appreciate the patience, encouragement and feedback I received through out the 12 weeks. The internship experience at Huddle Up, was not what I was expecting in the best way possible. I felt apart of the team and appreciated for the work I produced. Thank you for the opportunity to intern at Huddle Up Emma!"
Natasha Uniewicz
"I was lucky enough to do some work experience with Emma this year – she is a generous, enthusiastic, and effective mentor who has created a wonderful environment at Huddle Up along with Michelle.
Emma balances razor-sharp business and marketing skills with such a friendly, positive manner, that encounters with her are always productive, to the point, and leave you with a smile on your face." 
Haylee Whisson
WHAT DIRECTION WOULD YOU LIKE TO TAKE ON THIS ADVENTURE? 
There are many disciplines of marketing, and we'll tailor your internship for your career goals and passions. AREAS OF LEARNING AND EXPERIENCE COULD BE: 
Defining the best platforms for the brand to reach the right people, as well as the content and tactics to get traction. 
From planning to content collection, content creation, writing, scheduling, monitoring and engaging – learn the process end to end! 
COPYWRITING & STORY TELLING
What you say, and how you say it, has become more important than ever! Get amongst a range of topics, industries and platforms to fine tune your marketing writing skills! 
Learn more about market research, marketing strategy foundations and how to write it in a way that brings your suggestions to life for business owners and leaders. 
Beautiful brands are great! Effective and meaningful brands that attract the target audience are even better! Learn the ins and outs when it comes to creating a new brand from scratch, or elevating an existing brand. 
Would you love to see some of your work published online, or possibly even in print? Here is your chance to take on real design briefs, pitch your design concepts and then make it happen! 
Epic design creates epic user experiences! Just because something has always been done a certain way, doesn't mean it has to stay that way. Now is your chance to challenge thinking, plan out a better way and pitch it to the project manager. 
Looking to get your teeth in to some WordPress development? Now is your chance to contribute to a broad range of projects with a highly capable team. 
This is the future of marketing!! Automating the expected and humanising the unexpected. Learning about the features and benefits of many CRM systems, how to plan and build funnels, then how to integrate Automation campaigns will be a career changer for anyone systems minded. 
YOUR INTERNSHIP WILL BE TAILORED TO YOUR AREAS OF INTEREST AND CAREER AMBITIONS. 

THE NITTY GRITTY
Frequently ASKED QUESTIONS
HOW DOES THE 12-WEEK HUDDLE IN LEVEL UP MARKETING INTERNSHIP WORK?
This internship needs to benefit all involved. That includes you, the Huddle Up team and our clients.
When you express interest, you'll indicate what areas of marketing you'd like to get more exposure in and your field of studies. We also want to know a little bit more about you during this process.
If your application is successful, we will work with you to map out the structure of your learning over the 12-week period, and work experience tasks you'll be assigned.
HOW MUCH TIME WILL I NEED TO PUT IN TO THIS INTERNSHIP? 
The minimum requirement is 8 hours per week for 12 weeks with the option to continue for longer or increase hours per week. Upon expressing interest, you will need to indicate your preferences for hours per week and the total duration of your internship.
DO I NEED TO SUPPLY MY OWN COMPUTER? 
The short answer is no, you don't need your own computer. For security and privacy reasons, you'll be working on a Huddle Up Creative machine. However, there may be certain tasks like illustration or video editing that you may prefer to use your own device for from time to time, and we will consider this. 
CAN I COMPLETE MY INTERNSHIP FROM HOME OR REMOTELY?  
Whilst we appreciate that flexible has its benefits, we believe it's important for you to also get experience working in an office environment and collaborating with others. You'll need to work from our office with flexibility on times / days of work.  
Business Strategist, Brand & Marketing Strategist 
Co-Owner Huddle Up Creative 
Co-Founder Future Female Leaders Program 
Owner Emmersion Underwater Photography 
Co-Owner Premium Dive 
BA Strategic Management
BA Design
Cert IV in Training and Assessment

Meet Your MARKETING MENTOR,
Emma
Where do we start with Emma? You could say that she's one of the most positive, intelligent, down to earth, enthusiastic and energetic business women you'll ever meet.
Strategist by trade, creative soul by nature, and occasional mermaid. 
Emma has always had a passion for coaching, business and the underwater world. Starting her first business at the age of 17, Emma thought she was destined for great things when her business cards for coffee training were given away with the three new coffee machines sold every year in a tiny town in New Zealand. 
For nearly two decades, Emma has been on a mission to help businesses grow. During her time as a Business Banking Manager, reviewing business plans and business finance applications, Emma saw the potential to help in a more creative way.
Combining her Strategic Management and Design studies over the years has equipped Emma with a unique skill set to help businesses stand out, create a solid presence, irresistible offers and win in the market. 
Today, Emma and her team at Huddle Up Creative are taking businesses to new heights with strategically fuelled marketing plans and branding.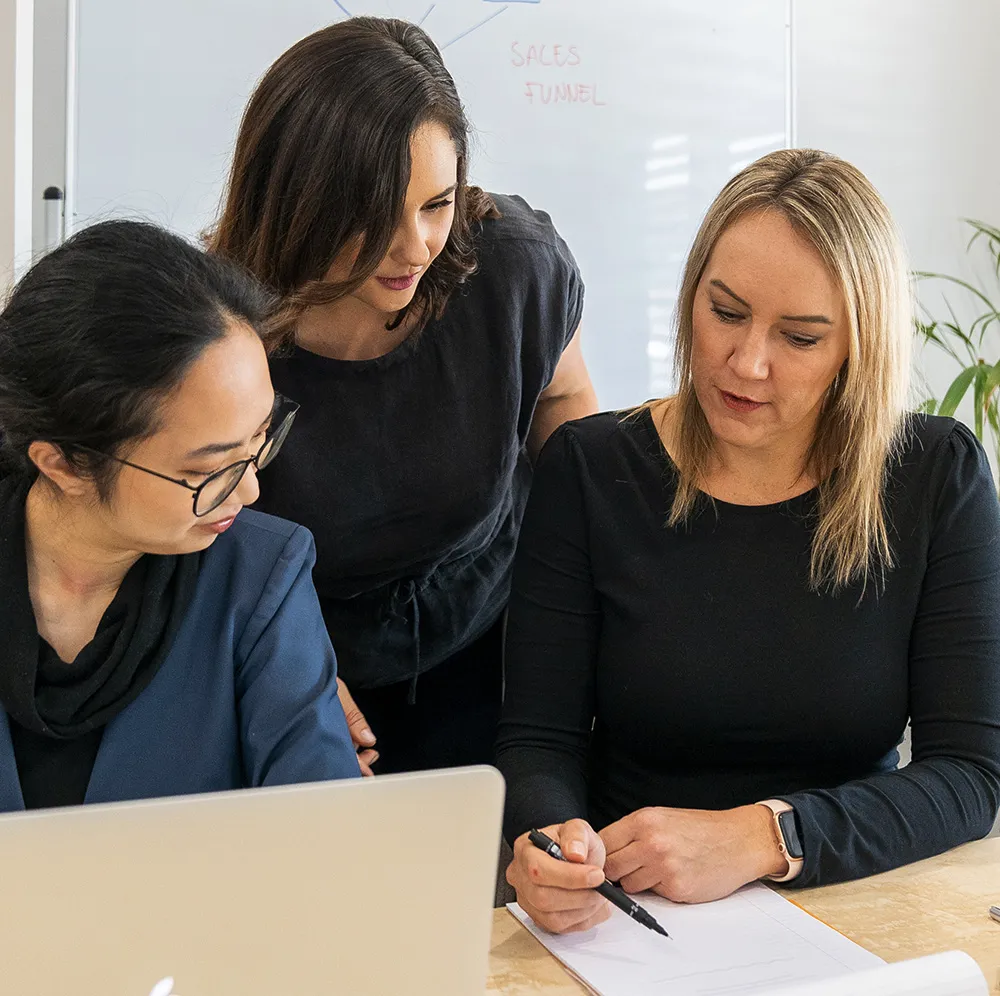 Take the first step.
Book an obligation free Discovery Call. 
We do love a chat!