Websites promote your business 24/7.
No employee can do that.
We're focused on results.
We build user-friendly, high-performance websites that understand visitor goals, work flawlessly on any device and convert visitors to fans. That's a given. But we like to go one step further… we put the work in to ensure your website gives you an edge over your competition.
A successful website does four things:
It attracts the right customers.
It guides them to the appropriate service or product that you're selling.
It collects contact details for future relationship building.
It provides a mechanism for retargeting your leads and customers.

Our approach to web design sets us apart from other agencies in Perth and across the globe. Our team is ahead of the game and cuts no corners, and that's something we're super proud of.
Things to consider:
WordPress: WordPress powers over one third of the web. It's the most robust and intuitive content management system (CMS) available.
Discoverable: We keep Google in mind and set the correct foundations for search engine optimisation (SEO) and discoverability.
Visible: A website is the digital equivalent to a physical store. Standing out from other websites is our focus.
Relationships: 97% of people landing on a website are not ready to buy. We implement ways to foster longer term relationships.
Engagement: On average, we have only 8 seconds to engage a website visitor before they leave. The right messaging and content is essential.

Automation: We build websites that collect the contact details of leads who enquire, and set up customised systems to nurture new prospects 24/7.


When working with our Perth web design team, there are four things you can be sure of:
Simplicity: Together, we go through the process and ensure everyone knows the game plan.
Transparency: Our fees are structured, uncomplicated and completely transparent.
Communication: Clear lines of communication are maintained throughout your project. You have questions? We've got the answers!
Support: We're here, every step of the way. And we won't leave you hanging once your website is live. Need something tweaked? We'll happily tweak it.
When built well, websites are a tool for your business to generate revenue. 
What we do:
Website Design
Website Development
Search Engine Optimisation
Website Health Care Services
Website Updates
Website Audits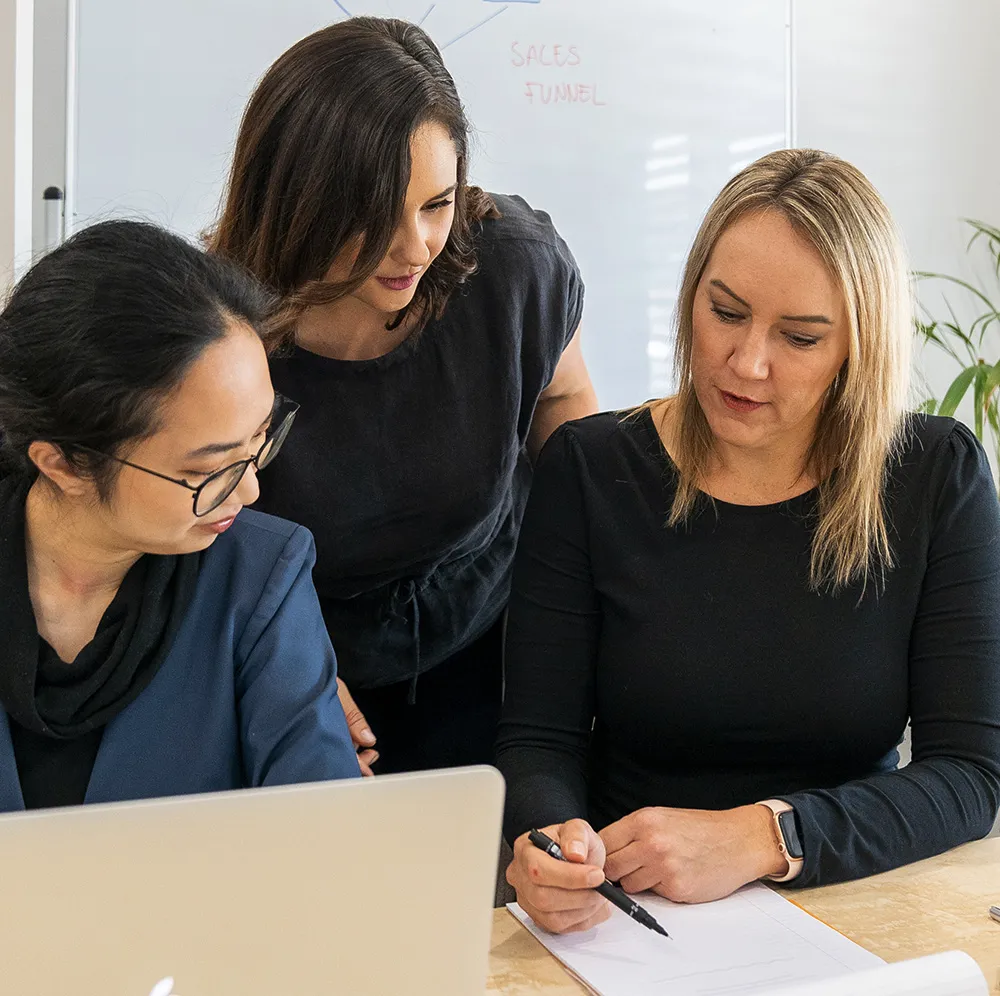 Take the first step.
Book a free 30-minute call today to start the discussion about partnering with us.
We love working with the Huddle Up Creative Team! We engaged Huddle Up in 2019 to support us with Ontraport and our Marketing Strategy. Since then, we've teamed up every month, and have never looked back. The Huddle Up team are highly engaged with our business, super responsive, keep their commitments and always go above and beyond. If you're looking for a partner to help you take your business to the next level, reach out to these guys.
Home Integrity
2022-07-05
Emma, Ben and the team at Huddle Up Creative are fantastic at what they do and so easy to get along with! Our social media has never looked so good. We really feel like they understand our branding and key messaging as much as we do. Then we have Ben, the Ontraport superstar. So clever in the solutions he finds and forever supporting us as we navigate the platform to its full potential. Thank you team Huddle!
Shannon Zogopoulos
2022-06-21
Ben and the team from Huddle up have been instrumental in creating a seamless workflow and automation. Ben specifically, has been responsive and creative in the work we have done together. His knowledge has made our workflow better, cohesive and aligned to our business value. Thankyou Ben and team!
The 23Fathoms and HuddleUp team went above and beyond in delivering an outstanding website and brand for my company. They simplified the process and made it so easy from my perspective, which was a massive weight off my shoulders. I highly recommend them! Evolveable Consulting
These guys are extremely helpful, not pushy and deliver great work. They assisted us with our webpage and portfolio. I cannot recommend them enough.
Huddle Up provide a very modern and innovative way of providing marketing consulting however they are also old fashioned in that they provide a lot of additional value and make sure you are completely satisfied before completion. There were numerous follow ups, testing and checking in to make sure I understood what can be a complex area. I am very excited to be able to go to the next step with marketing my business.
Katherine Iscoe
2020-04-14
If I had to choose one word to describe Melinda and the HuddleUp Creative team it would be: DEDICATED. They aren't just contractors, they actually become part of YOUR team and want your business to be successful as much as you do. They treat YOUR business like it's their own and dive in to the brand experience from an emotional point of view. Everything they do is thought out in minuscule detail - and most importantly, they think outside the box and into the future so ensure the work that you put in now will help you in the long term, not just as a quick fix to pump up your exposure only to have it collapse. I absolutely ADORE working with Huddle and only hope that one day I can have Melinda and Jamie work for me full time - I don't want to share them with anyone else! They are absolute GEMS! But until that happens, if you're on the fence about 'giving it a go' with them, jump off and dive in. It will be the best experience you've ever had when it comes to customer journey experts and marketing.