Connecting strategy with creativity  –
let's position your brand for success.
At Huddle Up, we start by getting to know your target audience and the positioning strategy of your brand. Only then do we create.
Our mission is to give you a memorable, compelling and unique visual identity that ignites trust and sparks emotion from its chosen audience.

A branding recipe for building purposeful and authentic brands:
Strategic: An intelligent strategy builds enduring brands. Ideal clients and positioning are at the core of our branding projects.
Unique: Built from the ground up, our artistry offers an authentic and unique aesthetic.
Infused: Your carefully designed brand energy is infused through all brand assets.
Credible: Professional, highly polished visuals build rapport and trust with your audience.
Consistent: Consistency and cohesiveness across all of your brand assets and messaging.
Creative: When your vision is fused with our ideas, creativity is ignited.

Strategy: We go deep to unearth your brand's true purpose and vision, taking into account your ideal audience, your mission, values, positioning and brand energy. If you don't have these components already, no problem. We can work with you to create them.
Ideation time: The creative brainstorming begins. We weave the magic threads between strategy and beauty to present you with a number of refined concepts.
Showcase: We present to you the most compelling creations from our process. This includes variations of the logo mark, suggested colour palettes and typographic choices.
Final logo mark: Our team works hand in hand with you to put the final buff and shine on your chosen design.
Brand assets: Now we have your chosen logo, colour palette and typography, we create a suite of brand assets for you to align all future brand communications.
Brand voice: We help you to uncover your brand's personality and distinctive voice so future communications are consistently and uniquely 'you'.
Style guide: Keep everyone in the loop and on-brand with your style guide. Your team will have the guidelines to design and write on-brand at all times.
It takes solid strategy and sharp design to build agile brands that own their space.
What we do:
Brand Strategy
Logo Development
Colour Schemes
Typography
Style Guide
Brand Assets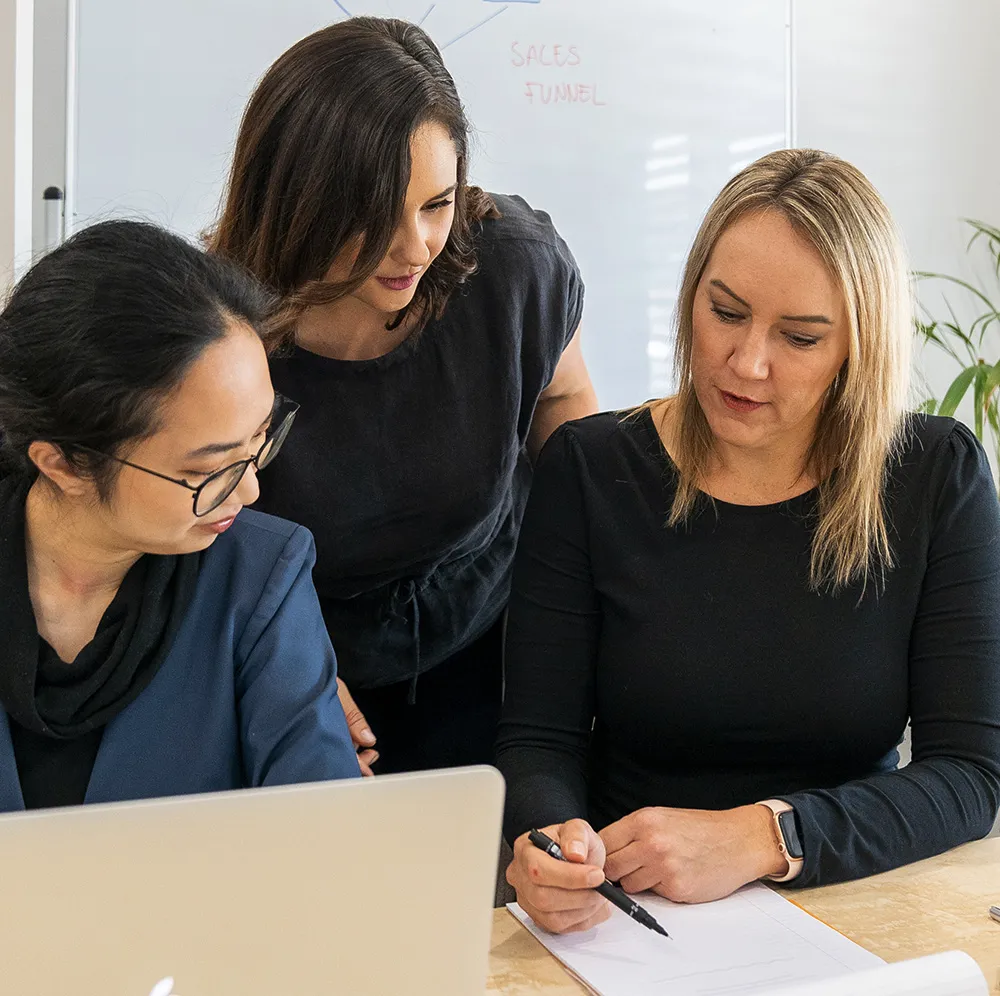 Take the first step.
Book a free 30-minute call today to start the discussion about partnering with us.
We love working with the Huddle Up Creative Team! We engaged Huddle Up in 2019 to support us with Ontraport and our Marketing Strategy. Since then, we've teamed up every month, and have never looked back. The Huddle Up team are highly engaged with our business, super responsive, keep their commitments and always go above and beyond. If you're looking for a partner to help you take your business to the next level, reach out to these guys.
Home Integrity
2022-07-05
Emma, Ben and the team at Huddle Up Creative are fantastic at what they do and so easy to get along with! Our social media has never looked so good. We really feel like they understand our branding and key messaging as much as we do. Then we have Ben, the Ontraport superstar. So clever in the solutions he finds and forever supporting us as we navigate the platform to its full potential. Thank you team Huddle!
Shannon Zogopoulos
2022-06-21
Ben and the team from Huddle up have been instrumental in creating a seamless workflow and automation. Ben specifically, has been responsive and creative in the work we have done together. His knowledge has made our workflow better, cohesive and aligned to our business value. Thankyou Ben and team!
The 23Fathoms and HuddleUp team went above and beyond in delivering an outstanding website and brand for my company. They simplified the process and made it so easy from my perspective, which was a massive weight off my shoulders. I highly recommend them! Evolveable Consulting
These guys are extremely helpful, not pushy and deliver great work. They assisted us with our webpage and portfolio. I cannot recommend them enough.
Huddle Up provide a very modern and innovative way of providing marketing consulting however they are also old fashioned in that they provide a lot of additional value and make sure you are completely satisfied before completion. There were numerous follow ups, testing and checking in to make sure I understood what can be a complex area. I am very excited to be able to go to the next step with marketing my business.
Katherine Iscoe
2020-04-14
If I had to choose one word to describe Melinda and the HuddleUp Creative team it would be: DEDICATED. They aren't just contractors, they actually become part of YOUR team and want your business to be successful as much as you do. They treat YOUR business like it's their own and dive in to the brand experience from an emotional point of view. Everything they do is thought out in minuscule detail - and most importantly, they think outside the box and into the future so ensure the work that you put in now will help you in the long term, not just as a quick fix to pump up your exposure only to have it collapse. I absolutely ADORE working with Huddle and only hope that one day I can have Melinda and Jamie work for me full time - I don't want to share them with anyone else! They are absolute GEMS! But until that happens, if you're on the fence about 'giving it a go' with them, jump off and dive in. It will be the best experience you've ever had when it comes to customer journey experts and marketing.